James W. Senner
Crazy Cajun Enterprises, Inc.
Phone 530-559-9920
Fax 916-409-9005
jim@crazycharley.com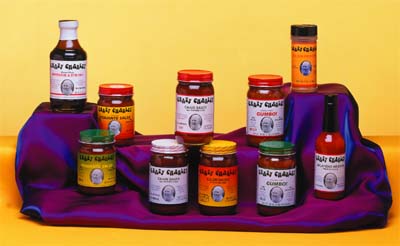 "Simply The Best"
You can order Crazy Charley™
products online!
If you prefer, please call us at 530-559-9920.
For special gift packs or Wholesale orders, please email or call us.
Visit our Retail Distributors, including some in Europe and Australia.
Thank you for your business!
Purchase Crazy Charley™ brand sauces - "I guarantee!"
Creole File Gumbo

16 oz. $6.95

Temporarily Out of Stock - will return soon

Jalapeño Heaven

10 oz. $6.95

Temporarily Out of Stock - will return soon
Gumbo in a Jar? We are the first to do it. As far as we know, this is the only bottled Creole File Gumbo available. My momma wants to know how I got the family recipe in a bottle tasting so good. Packed in 16 oz Mason jars, it took over a year to get this recipe just right. You add your own meat or seafood and eat it over rice or use it as a fantastic soup. Once you start eating this dish, you just can't seem to stop. If you haven't tried this, you must. Serve with your favorite chicken, sausage or seafood. Directions are on the label.
This great tasting jalapeño pepper sauce is just what you've been looking for. This sauce begins where other pepper sauces leave off. More than a pepper sauce, use it on meat, seafood or seasoning in your cooking. Use it where-ever you want great jalapeño pepper taste. Made with the red ripe jalapeños, it is a deliciously medium hot red sauce. Add fresh grated horseradish for a great seafood sauce. Use this one for a grilling sauce or a wing sauce.
Piquante Salsa

14 oz. $6.95

Temporarily Out of Stock - will return soon

Cajun Powder

7 oz. $6.95

Temporarily Out of Stock - will return soon
This is the sauce PLAYBOY gave a four chili peppers rating, making it the best Piquante Sauce in the WORLD! No fat or oil and very low in sodium and calories. It contains vege's, spices and herbs. WARNING! This PRODUCT IS HABIT FORMING!! Tastes like fresh vegetables in a jar. Great as a dip, poured over chicken and pork and roasted--or a short Cut to a quick Jambalaya (Just add a jar with rice and cook with your favorite sausage, chicken or seafood) Try it mixed with equal parts of mayonnaise for salad dressing or dip. Mix it with canned whole kernal corn and/or black beans for a great relish. Of course, use it in all your Mexican recipes.
The herbs and spices are the secret in this seasoning. Use this powder as a rub on meats and vegetables (including oven roasted potatoes and French fries) or sprinkle in a pot of beans, on eggs, meat loaf, popcorn or in casseroles or ??? All natural. Add equal parts course ground black pepper for a superb blackening seasoning. In 7 oz shaker.
Barbecue Sauce

16 oz. $6.95

Temporarily Out of Stock - will return soon

Meat Marinade
& Stir Fry

16 oz. $6.95

Temporarily Out of Stock - will return soon
16 oz. Mason jars of all natural ingredients, no MSG or cholesterol. No fat or oil and no added salt. Only 25 calories an ounce, this fine product has a brewed coffee base. Great with beans, chicken, ribs, meatloaf, grill sauce or a steak sauce. Winner of many, many top awards.
16 oz. bottles of all natural meat marinade that is just as good a 'stir-fry" or "fajita" sauce. This wonderful product is winning acclaim and praises all over the country. It's the premier marinade in the world! In a soy base with Sherry, lemon and papain to tenderize, this is the answer to beef, pork, chicken, wild game, and fish flavor. Wonderful for stir-fry vege's and meats. Mix with olive oil for a great salad dressing. Add fresh grated Ginger or Garlic for variation.
Cooking with Crazy Charley III Cookbook

$14.00

Temporarily Out of Stock - will return soon