James W. Senner
Crazy Cajun Enterprises, Inc.
Phone 530-559-9920
Fax 916-409-9005
jim@crazycharley.com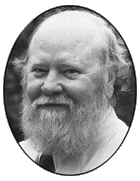 Crazy Charley's Recipes
CHARLEY PUT HIS PUT FAMILY'S RECIPES IN JARS TO SHARE WITH YOU!
"I have been cooking these sauces since I was a kid. I stole the recipes from my family who has been making them since before the mid 1800's. I have loved to cook since I was nine when my grandmother taught me to fry Johnny Cakes. Being from my part of the country has allowed me to experience the best foods. Louisiana and Southern cooking is becoming a very popular cuisine all over the world.
CRAZY CHARLEY™
brand sauces will help you prepare Cajun and Creole meals that are easy, quick, delicious and authentic."
A BOAT TRIP DOWN BAYOU LAFOURCHE TO MADEWOOD PLANTATION HOUSE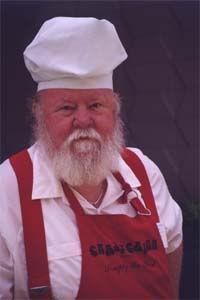 Charley Addison
RECIPE FOR MADEWOOD CRAWFISH ETOUFERE`
ROUX: 1 cup flour
one Tablespoon cooking oil
2 Tbsp. cooking oil
fresh seasoning
1/2 cup each
chopped onion
bell peppers
1 can chicken broth
1/3 cup Vermouth
or fine wine
1 pound crawfish tails
(or shrimp, chicken,
or sausage)
3 cups of cooked rice
Brown the flour and cooking oil to make a roux.
Saute seasoning with cooking oil then combine with roux
Add chicken broth and vermouth, mix well and then add crawfish tails
Add salt and pepper to taste. (some Tabasco?) Cook over low fire about 1 1/2 hours until crawfish is tender.
Serve over rice, serves 5.
We just returned from one of our several annual trips to Louisiana. I just have to tell you about the great trip I took with my sister-in-law Margaret and brother-in-law Julius Champagne. We took a ride down the longest street in the world Bayou Lafourche.
The Jean Lafitte National Historical Park and Preserve National Park Service was our host. (phone 985-448-1375 for more information.) We departed from the Wetlands Acadian Culture Center in Thibodaux on a flat bottom inboard motor boat which was just built at the center last year. People were able to watch the construction in a large room next too the bayou. It had to be low so it could pass under five street bridges over the bayou to our final destination, Madewood Plantation. The boat hold 20+ people depending on the size of the people.
We set out up the bayou as the National Park Ranger narrated interesting historical facts along the way. Lafourche Bayou is 200 miles long with houses built on each side, of course now there is also one road on each side of the bayou. It is often called the longest main street in the world. Houses were built along both sides of the bayou.
We ended up a Madewood Plantation for a wonder lunch of Gumbo and Crawfish Etoufee, salad, veggies, coffee and bread pudding. This was served to us in the large formal dining room. We toured the home which is now a bed and breakfast. They had 16 guests the previous night. Phone 1-985-369-7151 for information.
Madewood Pumpkin-Yam LaFourche
1 cup of pumpkin
3 cups drained yams
3 medium apples
peeled, cored & sliced
½ cup raisins

1 cup sugar
½ teaspoon vanilla extract
½ teaspoon nutmeg
½ teaspoon cinnamon
½ stick butter

Mix pumpkin and yams until smooth. Add apples, raisins, sugar, vanilla, cinnamon, and nutmeg, mix until well blended. Melt butter and mix thoroughly. Bake 150 degrees for about 30 minutes.
Compliments of Madewood Plantation House (Bed & Breakfast) 4250 Hwy 308, Napoleonville, LA 70390 985-369-7151
Charley's Turtle Soup
Here is my turtle soup recipe, enjoy. Charley
2 quarts chicken stock
4 tablespoons butter
¾ cup chopped green onions
½ cup chopped celery
½ cup chopped bell pepper
(red, green or mix)
½ cup chopped lemon
1 pound boneless turtle meat

½ chopped lemon (rind and all)
3 hard boiled eggs
½ cup flour
1 cup tomato sauce
pinch of basil
Tabasco, Lea and Perrins, salt, red
pepper and black pepper to taste.
white wine of choice like sherry

Place prepared chicken stock in large pot. Sauté onions, celery, basil and peppers in 4 tablespoons butter. Brown the flour in heavy cast iron skillet over medium heat while stirring until the color desired is reached. Add the vegetable mix and brown flour to chicken stock and mix well. Mash the egg yokes and dice the whites add to the pot.Add tomato sauce, lemon and seasonings to taste.
Brown the turtle meat in olive oil and add to the pot. Cook over low heat simmering for one to two hours.Add wine when ready to serve.Serve in bowls garnished with chopped green onion tops and/or chopped fresh parsley.
Can't find turtle meat?You can substitute with chicken breast or pork or other white meat. This mock turtle soup is good but….. how about the real thing?
Home made cakes and candies make great gifts during the Holiday Season
My Favorite is Pralines, a great candy Recipe from Louisiana
1 cup sugar
1 cup brown sugar
1/2 tsp. salt
1 cup canned milk
(not sweetened condensed)
1 stick (1/2 cup) butter
1 tsp. vanilla
1 cup pecan halves
Combine sugars, salt and milk. Stir over low hear until sugars dissolve. Stir constantly so misture does not burn. Cook about 15 minutes to "soft ball" is forms when a ball is dropped in cold water. Cool slightly.
Add butter, vanille and pecans (
pronounced peh-KAN or puh KON, not Pee-kan, the thing grandmother kept under her bed.
) Beat until creamy. Drop by spoonfull on waxed paper to let cool and harden. Makes 30-36 pralines. They will form a patty about 2-3 inches in diameter. Pack them individually in plastic sandwich bags for storage or packing for gift giving.
Paul Prudhomme adds 1 cup shreaded coconut, or chocolate when butter etc. is added to make a variety of tastes. I like to add 1 cup of chocolate chips to make a chocolate Praline.